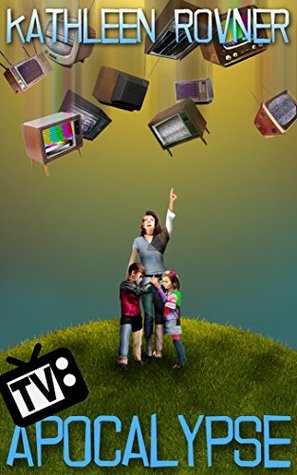 Blurb
Even the suburbs aren't safe from the end of the world…
Daisy Danner is your typical busy stay-at-home mom. On most days she tries to keep her head down and finish her never-ending work. Today is different. Today is the apocalypse.
When an eerie attack starts to tear the neighborhood and the world apart, Daisy shuts the doors and prays that her husband Justin will return soon. Her mind begins to fray as she tries to cope with the possibility of single motherhood in a menacing new world.
With her mental and physical abilities compromised, Daisy must keep her family together as the world falls apart.
TV Apocalypse is a psychological apocalyptic thriller set in an all-too-real suburb. If you like end-of-the-world tales, humor mixed with tragedy, and incredible suspense, then you'll love Kathleen Rover's chilling glance into post-apocalyptic suburbia.
3.5 Stars
What's a mom to do, when she just wants to sleep and feel better, but her kids
keep fussing at her to fix the TV. The almighty idiot box that rules their lives.
Why she gets up and then reads the message on the screen.
A virus is spreading causing people to become violent and turn on each other.
Could she be next?
What about her kids?
What if they all turn on each other?
This is a great read, told by Daisy's POV.
Which I like. The theme resonated with current
issues going on in the media right now.
Seems like there really is a virus going around that is
turning people into raging bulls.
Very realistic and hard to put down.
The ending left me wanting more, happy that book #2 is already out.
No waiting! YEAH!