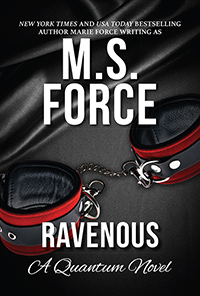 Get Ravenous now!
She wants a baby. He wants her. Simple enough, right?
Ellie Godfrey has kissed her share of frogs. So many, in fact, that she fears she won't recognize her prince if and when he finally comes along. Tired of waiting for THE ONE, Ellie decides to have a baby on her own before it's too late.
When Jasper Autry hears about Ellie's plan, what else can he do but step in and offer to "contribute" to her project. Does that make him an opportunist? Whatever. He wants the perpetually out-of-reach Ellie Godfrey, and when he sees his chance, he takes it. That she's the sister of his business partner and close friend Flynn gives him pause, but it doesn't stop him from having what he wants.
As Jasper and Ellie embark upon their secret "project," he makes it clear that for as long as they're together, he's in charge—in the bedroom anyway. After the hottest sex of her life, Ellie realizes she's made a deal with the devil himself.
Warning: If you hate foul-mouthed heroes who like it a little rough and dirty, this might not be the book for you…Contains hot and sexy BDSM scenes among other things that might not appeal to the faint of heart. Enter at your own risk and enjoy!
3.5 Stars
Ellie wants a baby and Jasper wants to father it.
Can Jasper win Ellie over on this idea? They've been friends for awhile,
she knows he's no saint. But damned if he doesn't lust after her.
Ellie shouldn't be too concerned that he wants to give her the baby
the old fashion way and in his way of sex.
What she should be concerned about is losing her heart to a scoundrel!!
What happens where there's a bun in the oven?
Can they walk away?
This is a cute book, well written, but somewhat predictable. That's what
stuck me. I was able to see where the book was going from the beginning.
That doesn't mean the plot wasn't good, it was. The next couple is already
hashed out for the next book?
Too soon!!
The story read quick and there were hardly any dull moments.
Sex is hot, Jasper is all male.
Will love bloom for these two while they make a baby?